Upcoming Event? Book Your Portable Toilet Rentals in San Mateo, CA
If you need help choosing the right portable toilet for your event in San Mateo, CA. Get a FREE Estimate from our skilled team.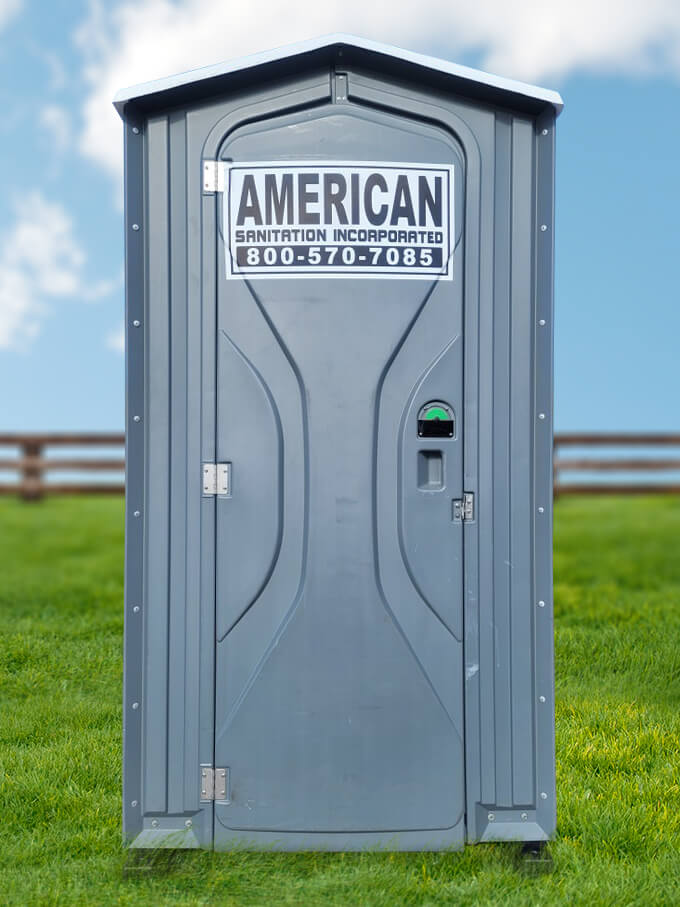 If you are preparing for a big event, then it is essential to consider the facilities made available for your guests. Portable bathroom facilities aren't only used on construction sites, but they are also beneficial for large group events. As you are finalizing the plan for your gathering, American Sanitation Inc is here to help with your
portable toilet rentals in San Mateo, CA
.
Just because you are hosting an outdoor gathering doesn't mean that your guests must sacrifice without modern facilities. These portable bathrooms offer both comfort and privacy, with various sizes and features available.
Types of Portable Toilet Rentals in San Mateo, CA
While porta-potties are commonly seen on construction sites and at fairs and concerts, these basic bathroom facilities are only one type of portable facility you can rent. At American Sanitation Inc, we specialize in high-end bathroom facilities as well, giving you a clean space for your guests to use as needed.
Here are a few examples of the types of portable toilet rentals you can choose:
Porta-Potties: These basic toilets offer the best solution if you are on a tight budget. Everyone is familiar with the small bathrooms placed at sporting events, concerts, fairgrounds, and construction sites. Porta-potties come in standard sizing, as well as wheelchair accessible sizes for ADA compliance.
Trailers: If you want a nicer outdoor bathroom facility, then you might consider a bathroom trailer. This trailer design gives guests a similar experience to using a bathroom in an office or home. Most trailers have both toilet and sink features built-in.
VIP Toilets: For a high-end event, it's worth the investment in a VIP design. These portable toilets are often used for charity events and weddings, where guests will arrive in formal attire. When people are dressed in expensive clothing, they don't want to use low-end porta-potties. This trailer bathroom includes top-notch VIP features such as sinks, vanities, mirrors, and flushing toilets – in an indoor environment on the trailer.
All of the above portable toilet rentals in San Mateo, CA can be brought to your location including both delivery and pickup services. Additionally, full-service solutions are offered to keep the facilities clean and stocked with toilet paper if you are using them for a multi-day event.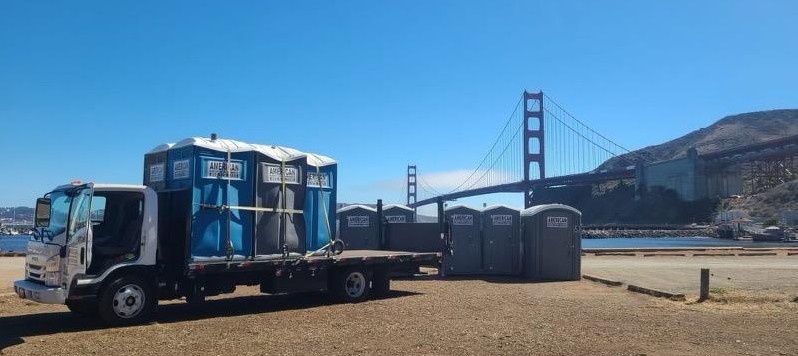 Choosing the Right Bathroom Facilities for Your Crowd
One of the benefits of choosing American Sanitation Inc is that we offer quality mobile restrooms, custom-designed to match your event. When you talk to our team, we will discuss the number of people who will be attending, as well as the type of event you are hosting. You can choose single-stall porta-potties, full bathroom trailers, or a combination of both to ensure you have sufficient facilities for the event.
Our larger bathrooms are built to meet ADA standards, so guests with disabilities can conveniently access the necessary facilities.
The high-end trailers and VIP toilets bring the comfort of indoor facilities to an outdoor event. Your guests will be glad to have the convenience of a toilet that flushes, as well as a sink and handwashing stations. To run these classy portable trailers, you will need a source of electricity. No water hookup is needed since the toilet and sink water run through an onboard water system.
When Do You Need Portable Toilets?
You'd be surprised how often portable toilets are needed! At American Sanitation Inc, we can accommodate events of all sizes. Our customers commonly use our services for these types of events and situations:
Construction: The crew needs access to bathroom facilities when they are on the job site. Even when the building plumbing is functional, it is common for the contractor to keep these toilets on-site to minimize the crew's use of the new installations.
Concerts and Large Events: When you have a lot of people attending an outdoor event, it can be a challenge to accommodate their bathroom needs – which is why portable toilets are essential. Examples of these events include marathons, community parties, church gatherings, sporting events, and fundraisers.
Corporate and Charity Events: When you are hosting a business gathering, then it's smart to budget for the rental of a toilet trailer or VIP toilets.
Outdoor Weddings: Your wedding guests won't stay long if they don't have access to facilities. If you are planning an outdoor wedding, vineyard wedding, or a backyard reception, use VIP toilet rentals to offer classy facilities as needed.
Talk to the Portable Toilet Experts
Don't let sanitation be an issue at your event! When you are preparing to host large groups of people, then you need to be sure that sufficient bathroom facilities are available.
For full-service portable toilet rentals in San Mateo, CA, talk to our experienced team at American Sanitation Inc. We are located at 1729 Action Ave, Napa, CA 94559. Call to learn more about available rentals and services: (800) 570-7085.