Planning Santa Rosa, CA Portable Toilets for Your Wedding or Event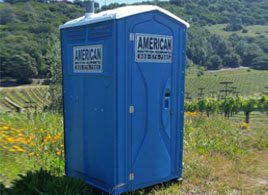 American Sanitation Inc. offers portable toilets & luxury restroom trailer rentals in Santa Rosa, CA. Our goal is to provide excellent customer service to each and everyone of our customers. We can provide you a list of references from our satisfied customers upon request. 

What We Offer:

• Basic Portable Restrooms
• ADA Compliant Portable Toilets
• Flushable Portable Toilets
• VIP Portable Toilets
• Hand Wash Station
• Luxury Units

If you need help choosing the right portable toilet for your event in Santa Rosa, CA. Call us today at (800) 570-7085 or email us today at info@american-sanitation.com for a FREE Quote!
When you are planning a large event such as a wedding or a corporate gathering, you need to consider logistical details such as portable toilets to accommodate the guests in attendance. At American Sanitation, we provide porta potty rentals for any event in Santa Rosa, CA. These facilities are available for short-term events or longer term situations such as construction projects.

You need to make sure that your guests are cared for with good restroom facilities. When you have the services of portable toilets, you can plan your event at any outdoor location without worrying about the facilities that are available for the guests.

Types of Portable Toilets to Choose From

In Santa Rosa, California, you can choose from many types of portable toilets, including both basic toilets and high end portable toilets. These are some of the options that we offer here at American Sanitation:


Simple Portable Toilets: Basic porta potty facilities are well known, and these portable toilet rentals are often used at sports events, fairs, and construction sites. They are a great solution if you need a cheap way to provide simple bathroom facilities.


Bathroom Trailers: A portable trailer designed as a bathroom can be placed in any flat outdoor location, and these trailers are a little nicer than the basic porta potties. The trailers have full bathrooms that guests can use during your event.


VIP Portable Toilets: Formal events such as weddings or charity fundraisers often use these VIP facilities to offer a nice experience for their guests. These VIP trailers have flushing toilets and running water in the sink, and the experience is very similar to visiting a bathroom inside a house or an office building.


You can see that there are a variety of portable toilet designs to choose from, and we can help you accommodate any size of group at your event. Whether you are looking for basic porta potty rentals or luxurious accommodations for a high class event, American Sanitation can help.
We offer ADA compliant units for handicap facilities, as well as multi-stall trailers to accommodate large gatherings. When you contact our company, we will work closely with you to understand the needs of the event, in order to identify the right type of facilities needed for the group.
Full Service Accommodations
It is never a fun task to clean up the bathroom and stock the area with the supplies that are needed. But, you don't need to worry about it, because we will handle all of the details for you. These porta potty rentals are dropped off at your Santa Rosa location, and then we will pick it up whenever you are done.
Additionally, the bathrooms are stocked with toilet paper. Some of the facilities also offer antibacterial hand sanitizer dispensers, and we also have separate hand-washing stations that can be used if you would like.
The VIP portable toilets are fully functioning bathrooms, with onboard water storage to accommodate the toilet and sink use. You will need to ensure that an electricity source is available to power these VIP bathroom facilities.
When Do You Need Porta Potty Rentals?
There are a variety of situations where it can be beneficial to have porta potty rentals:
Commercial and residential construction sites


Fairs and large events


Concerts


Sports games


Fundraisers


Marathons or 5K races


Church gatherings


Community Parties


School activities


Corporate events


Charity functions


Weddings


Birthday parties


And more!


Any situation where you will have a large group of people gathered together is a good time to have portable toilets available. It is important to consider sanitation needs during these large gatherings, in order to avoid potential problems that can occur if there aren't enough facilities available.
Full Service Restroom Trailers and Toilet Rentals
One of the biggest advantages of a portable toilet rental is the fact that you don't have to worry about the details. At
American Sanitation
, we understand that you have a lot to worry about without coordinating these details for your event. When you place your order with us, we will make sure that the bathroom facilities are setup and ready to go, allowing you to focus on other aspects of event planning.
Our facilities are high quality, helping your guests to have a good experience when they attend your event. You will see that we offer un-matched customer service, and our goal is to make sure that you receive the portable toilet rentals that best match the needs of your group.
For example, if you are planning a formal event, then we can be sure that you have VIP toilets available so that your guests won't have to use basic porta potties while wearing their formal clothing. Wedding portable toilet rentals are very popular because the VIP toilets are much more comfortable than using a basic porta potty.
Do you need more information about portable toilet rentals in Santa Rosa, CA? Contact us at
(800) 570-7085
and we will gladly answer your questions and help with anything that you need!
Portable Toilets FAQs
What are the do's and don'ts of a septic tank?
There are a lot of things that you could put down the drains and on a regular sewage system, maybe you could get away with that. Water, Toilet Paper, And Waste Goes Down The Drains—That's It.
Avoid All Chemicals - These items have chemicals and they can actually harm the bacteria in the septic tank. When the bacteria die off, the tank can't do its job and you are stuck with a filling tank with no outlet. You'll have to get things pumped out as the ecosystem resets itself and starts to work properly again.
Ration Water - While you can use as much water as you need, you will want to spread things out over the course of the day and week, so you don't overload the septic tank with too much wastewater all at once
Don't Utilize The Garbage Disposal - Homes with septic tanks really shouldn't have garbage disposals, but many do. You don't want to put things down there to grind them up and send them down the pipes. Read more.
What Happens When Homeowners Avoid Septic Tank Pumping?
Here are a few elements you will see happening—none of them good.
Sludge Buildup
Drains Slow Down
Backups Occur
Septic tanks need to be pumped out every 3-5 years without exception.
Where Is Your Septic Tank?
Locate the main sewer line, which starts in your basement or crawl space and leave the side of the home. Measure the location of where that line leaves the house and find that location outside. Then, you can carefully probe the yard with a thin metal stick (don't push too hard, however,) and follow the line out into the yard. The last thing you want to do is puncture the line so you will want to probe with gentleness and great care. Most septic tanks are three or so feet underground and 10 or 20 feet from the house. Read more.