Residential and Commercial Septic Service in Oakland, CA
If you need help choosing the right Septic Tank Pumping Services in Oakland, CA. Get a FREE Estimate from our skilled team.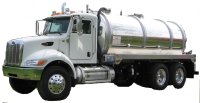 As a homeowner or business owner with a septic tank on-site, you know that the care of this system is critical to avoid common issues in the future. Not only do you need to be proactive with a few important tricks to protect the function of the septic system, but it's also smart to bring in a septic service in Oakland, CA occasionally.
At American Sanitation Inc, we offer full-service solutions to ensure that your septic tank is working properly. Our team is available for maintenance and repair when needed. Additionally, we are happy to teach our customers about ongoing practices to avoid problems in the future.
Taking Care of a Septic Tank
A home with three family members and two bathrooms can use an average of 200 gallons of water daily – which adds up to 84,000 gallons of wastewater annually. The septic tank is a filter to separate the particles and solids from the water, allowing the water to move on to a drain-field where it is purified. If the septic system isn't properly cared for, then it can struggle.
The septic tank is a huge, underground, watertight container. The wastewater from your home flows into this container. Water comes from everywhere you are using indoor plumbing such as the laundry, sinks, dishwasher, showers, baths, and kitchen. Heavy solids within the wastewater settle – falling to the floor of the tank and forming a layer of sludge. The lighter solids, like oils or grease from the kitchen, rise to the surface of the water and create a scum layer.
Decomposition happens in this tank, with the compounds flowing into the drain field for the final disposal and treatment. But not everything will decompose and leave the tank. So, you need to hire a septic removal company every 3 to 5 years to clear out the remnants in the tank.
Available Septic Service in Oakland, CA
When should you call our team at American Sanitation Inc? If you have a septic tank, then don't hesitate to call us if you have questions about maintenance or care. When you understand how the septic tank works, then it is easy to see why a proactive approach is necessary for ensuring the function of the system.
At American Sanitation Inc, we offer a variety of quality septic services in Oakland, CA. Here is an overview of some of the services that might be beneficial for your septic system:
Tank Inspection: An annual inspection ensures that you have balanced levels in the septic tank. Our trained team members complete a thorough inspection to identify potential issues in the earliest stages – helping you avoid expensive repairs or replacements in the future. A septic tank inspection is a good investment for proactive management of your system
Tank Repair: When you walk near the drain field areas, do you notice wet spots, odors, or sewage that is surfacing? Then your septic tank might need to be cleaned or repaired. Call us right away to avoid other issues.
Tank Replacement: Our goal is to extend the life of your current septic tank for as long as possible. But delayed maintenance or certain problems might require replacement. For example, if solids flow through the drain field and result in damage, then it might be unfixable and require the installation of a replacement drain field.
Recommendations for Caring for a Septic System
A proactive approach makes it easy to maintain a quality sewage system for years, and save money on repairs. Here are a few tips from our team:
Schedule an annual inspection
Mark your calendar to pump the tank every 3 to 5 years
Don't wait until there is a problem before pumping the tank
Keep maintenance records, including services and dates
Reduce water usage to lessen the strain on your septic system
Don't put grease or fat down the drain
Never flush sanitary napkins or tampons
Don't run chemicals, paint, or oil down the drain
As a general rule of thumb, you should minimize the particles and items that go down the drain as much as possible. Never flush eggshells, nutshells, coffee grounds, cigarette butts, paper towels, baby wipes, etc.
When Should You Call for Septic Tank Services?
If there is an issue with your septic tank, then you will know about it! These issues are most common when the tank is overdue for cleaning, pumping, and maintenance. Watch for these signs and call our team right away if you suspect a problem:
Sewage surfacing
Odors
Wet spots
Plumbing problems, such as backups in the toilets or sinks
Sounds of bubbling or gurgling in the plumbing system
New vegetation growth in the drain areas (more than the surrounding land)
Slow draining
If it's time for septic service in Oakland, CA, then American Sanitation Inc is just a phone call away. Our team is located at 1729 Action Ave, Napa, CA 94559. Call us at (800) 570-7085.
Septic Tank FAQ's
What is done during a septic tank inspection?
In most situations, during a complete inspection, the septic tank is drained, and the backflow field is controlled. The inspector would also check the pipes to ensure that there is nothing to obstruct the flow of water from the house to the tank. Learn More.
Can a full septic tank cause gurgling?
The most common culprit is a full septic tank. If the septic tank is full, it can cause gurgling sound to flow out to the septic tank when the toilet or drain is flushed. This can cause a number of problems, from the wastewater back to the bathtub and sinks, to the wastewater running into the drain area. Learn More.
How Much Does A Septic Tank System Cost?
The estimated cost of installing a new home septic tank system is $3,918, with most homeowners spending between $3,280 and $5,040 on a 1,250-gallon 3-or 4-bedroom support system. A modern septic system with two alternating pumps costs an average of $9,571. Get free estimates from nearby septic system installers. Learn More.