It's not everyday that you sit down and think, "gee, I need to rent portable toilets in Sonoma, CA." But there might come a time when the need does, indeed arise. If you face any of these situations, you might need to look over rental options. Keep in mind that while there are standard portable toilets like what you might picture, there are plenty of other options today as well, even things that work well long-term or for classy events. Here are some situations that might call for portable toilets.
An Outdoor Wedding
If you are having your wedding and/or reception outside, if there are no indoor bathrooms that are nearby or convenient, having portable toilets is a necessity. You don't have to worry about portable toilets bringing your event down because there are fully flushing bathrooms that even have running water and sinks in them for hand washing. They really do feel like regular bathrooms and won't make guests feel any discomfort in any way.
A Bathroom Renovation
If your business, or even your home, is going through a renovation process, the bathroom might be out of commission for a bit of time. If you don't have another bathroom, or you have too many people in your house or to serve that you need more than one, portable toilets are good options that can be on-site nearby, but also out of the way, for as long as you need them. Fully flushing options are always a good choice, but you can also look into handicap stalls. In a business, that's a good idea so you can accommodate any guest. For a home, it gives extra space, especially if there are small children who need help.
An Outdoor Carnival
It's the most fun anyone in town will have all year, but many people won't enjoy it nearly as much if they have to leave the fun and run home or find a gas station to take a child to in the midst of everything just to use the facilities. IT's important to know approximately how many will attend so you can place enough portable toilets in good locations throughout the event in order to give people what they need, when they need it.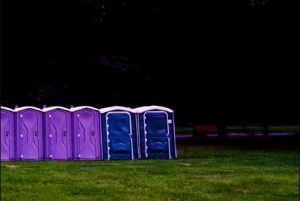 There are plenty of other occasions that might call for portable toilets in Sonoma, CA and the best news is that there are plenty of options today so no matter what kind of event you are having or what kind of need arises, the options are available for you and there's something to suit your needs. The professionals at American Sanitation can help you talk about how many, the best placement, cleaning schedules and so on. We're here to help make sure you have just what you need so whatever you are planning will run as seamlessly as possible. We understand this isn't something most people have to do very often, but we do and we're here to lend our expertise to you for your circumstances.