There are lots of different portable toilets in Petaluma, CA on the market, not just the standard toilets that you think of when portable toilets come to mind. There are enough options that you can find something that works for every occasion. While there are standard options, there are also fully flushing, running water options. There are even handicap accessible portable toilets. Here are just a few benefits of having this kind of portable toilet at your event.
#1: Inclusivity
Depending on what your event is to be and who is invited or might attend, having handicap portable toilets available includes everyone. It makes it much easier for those who might have mobility issues to enjoy the event and have their needs met. If you have any chance of handicapped individuals attending the event, having accessible portable toilets is in your best interest for their sake.
#2: Family-Friendliness
It might be hard to predict what mobility issues could appear at the event, but you will likely know whether or not there will be family groups in attendance. Portable toilets that are handicap accessible are much larger. They work really well for a mom who has to help a child in the bathroom, a dad with a stroller, or someone carting an infant car seat. These bathrooms are roomy enough to accommodate those family situations that can occur. Having a few extra restrooms that are handicap accessible when there are lots of families on the scene can be a great help.
#3: Changing Room Access
Think about trying to change in a standard portable toilet. No thanks, right? But a handicap restroom can double as a changing room, if need be. They are great for the beach so people can change into their swimsuits. They work well at any occasion where a quick change might be necessary.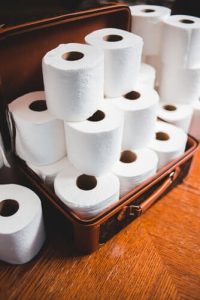 #4: Less Tripping Hazards
Handicap accessible portable toilets have ground level accessibility. That means there's no lip and no step up or down or over required. It can be a huge relief to know that elderly guests don't have to navigate a step or that children won't fall out of the restroom when they are done because there isn't anything to trip over. The best events start and end accident-free.
If you need portable toilets in Petaluma, CA for any reason, consider handicap options for inclusivity, size, and other purposes. The professionals at American Sanitation Inc can help you assess the needs of your guests at the upcoming event. Not only will we recommend which toilets might suit your needs the best, but we will also help you to figure out where to place them, how often to service them, and other such things. You might not have a concept of what's needed, but we work with event situations all the time and we can help you come up with just the right solution so any issue that arises during your event will not be because of improper or lack of facilities for your attendees.