Small businesses might offer quite a few amenities to their customers and workers. But having portable toilets in Vallejo, CA is something that can add a little extra to the company. If you work with one of these types of businesses, you need to have a good relationship with a portable toilet company so you can get your needs met each and every time a need arises.
Septic Companies
Septic companies go out and help homeowners and others with their septic tanks. At times, that means the home's plumbing has to be shut down. When that's the case, the family or business may need a portable toilet to get them by. It's nice for them to be able to get that rental taken care of through the septic company.
Party Rental Businesses
Many party rental businesses will rent things like tables and other party needs, but they will also want to have access to a portable toilet company so they can make recommendations based on experience for those needs. Not every party will need portable toilets, but anything outside very well might.
Agricultural Operations
Farmers and those who run agricultural businesses are going to likely need portable toilets for their workers. Those that are open for customers, like apple picking places or pumpkin patches, will also need options for people who come to enjoy the outdoors and their facilities. The needs may change from year to year and the operations may only need the portable toilets during certain seasons, along with cleaning options and maintenance.
Wedding Planners
Wedding planners are supposed to take over the event, follow the couple's directions, and get everything in place for the big day. No bride or groom really wants to think about portable toilets in Napa, CA when they could be picking out flowers and other such things. So, it's a good idea for wedding planners to have a relationship with a portable toilet company so they can take care of needs at an outdoor wedding or reception without any problems.
Construction Companies
Construction workers often have to be on the job site for long periods of time with no running water. Wherever they are sent, the company that sends them needs to have portable toilets arranged for that site. There are a certain number needed per worker on site and the right construction company will be able to work with a portable toilet company on a regular basis to get things delivered at the right time and in the right location.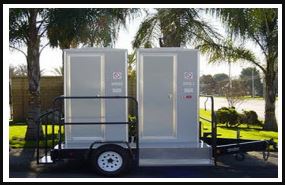 There are many other companies that can work on getting portable toilets in Vallejo, CA, either on an on-going basis or temporarily. If you see a need for your business, reach out to American Sanitation Inc and we can assess your needs and help you get things ready for whatever situation you are facing. We can show you a variety of different options and help you decide where to place the portable toilets on your location for the best fit for everyone involved.