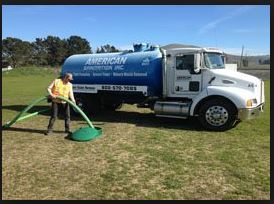 If you have a septic tank attached to your home, it can be a good thing and a bad thing. If you need service done on the tank, it feels like a bad thing. But there are experts in the field who know how to maintain your Napa septic tanks so you don't have to worry about them breaking down in the future. If you need service, you want it done quickly, right, and without breaking your budget for the job. You can get all of that when you hire the right company. How do you find the right company? Ensure they offer all of the following items before you commit to hiring them:  
Prompt Service 
If you have an issue with your septic tank, the last thing you want is to wait around for a company to answer you or to arrive. You need something done fast so the damage doesn't get worse and the problem doesn't grow. When you have a septic tank, it's best to investigate possible repair companies in advance so when an issue arises, you know who to call. Maintaining your septic tank is important as well so choose a company you trust to give you service when you really need it.  
An Experienced Staff 
Experience goes a long way in working on septic tanks. While a new company might do fine, you never really know for sure. An experienced company will likely have seen the issue you are having in the past and has experience in fixing it fast and correctly. You don't want to take chances with your septic tank so it's always best to go with experience. You also want a staff that is friendly to you throughout the process. You just can't beat good customers service today.  
Licensing And Bonding 
One of the first things you will ask a septic tank service company is whether they are fully licensed and bonded. You just can't take a chance hiring someone who hasn't gone through the specialized training to get that paperwork in place.  
Fair Pricing 
While you need your septic tank repaired, you don't want to pay your whole life savings to have it done. Look for a company with fair prices that are competitive so you can get what you need at a price you can afford.  
If your Napa Septic tank is smelly, draining slowly, backing up, or doing other things that you know means trouble, it's time to call in an expert for help. You will get all of the above items and more when you contact American Sanitation Inc at (707) 554-8258. We're a family owned and operates business and we have professionally trained septic pumping technicians who can get the job done right—and fast. Schedule a visit today to get your worn done as quickly as possible. We're located at 1729 Action Avenue, Napa, CA 94559 and we're always happy to answer your questions about septic tank health so you can avoid the big issues whenever possible.