Portable toilets in Fairfield are a necessity on certain occasions. You might see them at outdoor events, construction sites, or many other locations. They are in high demand and when you need to rent portable toilets for your own occasion, there are plenty of options to consider. While standard portable toilets serve their purpose, there are also flushing options that can make people feel like they are in a real bathroom. Here are just a few reasons why you might want to go with flushing portable toilets: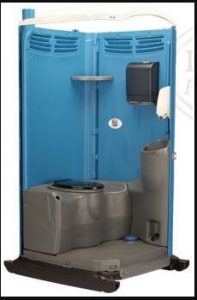 Reduce The Spread Of Germs 
While most portable toilets have sanitizing supplies, and many come equipped with a hand wash station outside, there's nothing quite like a fully flushing toilet with a hands-free system to make people feel like they have gotten through the situation as cleanly as possible. No one wants to catch germs from others and with a self-contained fresh water system, a flushing portable toilet makes those present feel better about germs.  
Support Water Conservation 
Indoor toilets use a lot of water when they flush. If there are indoor facilities nearby your event and you still place flushable portable toilets outside, they will get used as well, which saves the bundling a lot of water. The flushable portable toilets leave a smaller footprint behind than allowing everyone to use the indoor toilet.  
Deodorized Scents 
Whenever you think of a portable toilet, a certain smell comes to mind. Flushable toilets don't carry that smell because the waste produced in the toilets can be flushed away. If you're having a wedding or another upscale event, the scent of the portable toilets might be very important to you.  
Affordable Options 
While the standard portable toilets are going to cost less, there are still affordable options under the flushable umbrella. If you want something special for your event or location, there are ways to get what you need under the rental of flushable portable toilets without breaking your budget.  
If you need portable bathroom options, the experts at American Sanitation Inc are here to help with advice and variations. We can show you the choices and help you decide what will work best for your event. Regular flushable portable toilets in Fairfield can come on their own, or they can be coupled with hand wash stations that sit outside. You can also upgrade to VIP portable toilets, that are like real bathrooms with sinks, running water, flushing, and even trash containers all included. Whatever you need, we're here to help you find. Our family owned and operates company can deliver the portable toilets when you need them and pick them up once you are through with your event or special occasion. Give us a call at (707) 554-8258 and we'll go over the details with you, so you can make an informed decision as to which option is best for your circumstances. We're located at 1729 Action Avenue, Napa, CA 94559 and you'll get nothing but friendly customer service from us every time we speak.