There are lots of reasons why you might need to order portable toilets in Sonoma, CA. you might be having an outdoor wedding, running a carnival, or operating a construction site. Whatever the reasons, there are a variety of options from which to choose from standard to fully flushing options. Whatever you need, there are going to be some things you will want to avoid in order to get the best choices for your occasion. Here are a few:
Avoid Getting Too Few Portable Toilets
If you have an event of some kind that doesn't have enough bathrooms available, that can lead to long lines and unhappy people. No one wants to spend their time in line. You will want to figure out how many portable toilets you need based on how many guests you will have and whether or not there is food and drinks available. The professionals can help you get the right amount for the event you are having.
Avoid Omitting Handwashing Stations
Fully operational, flushing portable toilets have sinks and running water included. But for standard portable toilets, you will want to have a handwashing station so guests can use those facilities after the restroom. You'll want to make sure you have those stations and that you have enough of them.
Avoid Getting The Wrong Type Of Portable Toilet
There are lots of options and you don't want to have the wrong kind for the event you are hosting. If you are having a wedding, for example, people will be dressed up so standard restrooms may not be the best option for that event. Instead, fully flushing options are a good idea so you can give the event the elegant feel you want.
Avoid Bad Locations
No one is going to want to use a portable toilet on a hill, or one with mud all around it. The professionals can help you choose flat grounds that are easily accessible and not easily flooded with mud. The restrooms need to be visible, easy to find, and not a pain to use.
Avoid Restrooms that are Not Family Friendly
If you are going to have families at your event, larger restroom, like handicap accessible options, might be a good idea. Make sure there are changing tables available as well as enough space for a parent to help a child within the facilities.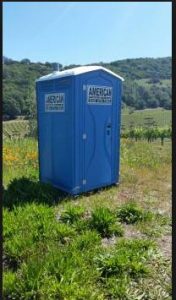 When you are going to get portable toilets in Sonoma, CA for an event you are holding, the professionals at American Sanitation Inc are here to help you make the perfect choices for your event. We can help you avoid all of the above, and other mistakes you might make along the way. We want your guests to have the facilities they need at a price you can afford. You can stop by our grounds and take a look at various options or you can talk to us by phone and tell us about your needs. Whether you need them for a day, a week, a month or longer, we can help.