If you need to place portable toilets in Napa, CA for an event, a job site, or a business, it's possible you will need handicap accessibility in those toilets. If that is of concern to you, you will want to know the differences between regular and handicap accessible toilets so you can get the right fit for your situation. There are, of course, specially made handicap accessible portable toilets that will be everything you need, but there are also some regular portable toilets that can pass for handicap accessible toilets. Here are some of the requirements that handicap accessible portable toilets need to follow:
A Door Wide Enough For A Wheelchair
Not all handicapped individuals have a wheelchair, but you need to make sure the door is wide enough for a wheelchair to get through it. That way, someone with a walker or someone on crutches also has extra space to maneuver. You can measure a wheelchair and then measure the portable toilet doors to make sure it is a good fit.
A Ramp Entrance
Portable toilets in Santa Rosa sit pretty low to the ground, but there can be a little lip at the entrance that people have to step over. It's wise for the portable toilet to have at least a small ramp so handicapped individuals can get over that lip or step without having any trouble. Some of the portable toilets will come with that or you might have to fashion something.
Enough Interior Space
If you were to go into a portable toilet in a wheelchair, you would go in one direction, but need to come out the other direction. The portable toilet needs to have enough room for someone inside to turn around in a wheelchair. This is also helpful for those on crutches who need extra space for their cast and for maneuvering. This interior space can also be helpful for parents of young children. They might have to take a child in and help them and that extra space can be very helpful.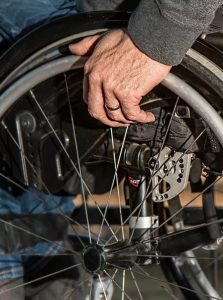 There might be some occasions where you have to have handicap accessible toilets available. The Americans with Disabilities Act outlines regulations and have details that can help you understand what you need. In addition to the above, they also want you to have magnetic doors for easy closing, grab bars inside that are reinforced, and 1 handicap toilet on site for every 20 regular portable toilets.
If you have the need for any kind of portable toilets in Napa, CA, the professionals at American Sanitation Inc can help you figure out just what to rent. We're here to help with placement after you decide what you need for your situation as well. We can set up a cleaning schedule and be with you every step of the way to ensure you meet every need that might be present at your event, work site, or business. We can show you various options and help you decide what's best for your circumstances that are coming up.