Perhaps your wedding was all planned for last spring and then, the country shut down due to the pandemic. If you put things off, you now watch the news with exasperation. Is this ever going to end? When can you have the wedding you planned? There are no hard and fast answers to that question, and you might not want to wait any longer to get married and start your life with your spouse. If that's the case, there are ways you can have a beautiful, safe wedding today. Here are some tips, one of which includes portable toilets in Novato, CA.
Have The Nuptials Outside
People in general are more comfortable in groups when they are outside. It's easier for families that aren't in close contact to stay separated and to enjoy an event in a safe manner. In a large enough area, like a park, seats can be placed farther apart as well to ensure even more safety measures.
Require Masks
While it might not be ideal, the last thing you want is for any of your family members to become sick or, worse, for many of them to get sick, because they attended your wedding. You might consider doing everything you can to keep everyone healthy, which could mean requiring masks for the event. You won't wear one during the vows or pictures, but you might for mingling with guests.
Use Portable Toilets
Many people don't want to use public restrooms right now and that's understandable. But restrooms are a big need at any wedding, especially if you are going to have any food or drinks after the vows take place. Renting a few portable toilets can give you what you need for that time. The restrooms, which come in fully flushing, elegant styles, are highly cleaned and sanitized between rentals. They are a much better option than a regular public restroom. Only your guests will be able to use it during the event.
Guarantee Handwashing Stations
Inside the portable toilet, if you get the fully flushing kind, guests are able to wash their hands after using the facilities. You can also get additional handwashing and sanitizing stations to pout around the portable toilets in case someone wants to wash their hands before eating, after touching a chair, or in any other circumstance. The more options for handwashing right now, the better.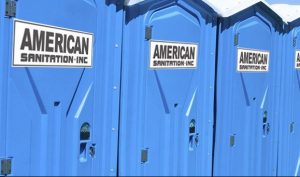 If you've waited long enough to get married and you've already put things off longer than you wanted to, you can have a safe wedding today with the help of your family, friends, your spouse-to-be, and, yes, portable toilets in Novato, CA. Having a small, intimate, outdoor wedding can be very memorable and the professionals at American Sanitation Inc are here to ensure that you can get the necessities met while giving your guests the safety measures that make them feel the most comfortable. Enjoy your big day without as many worries of the world so you can look back on the memories and smile in the future.